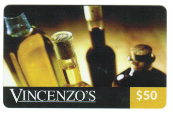 A Vincenzo's gift card offers the holder the opportunity to experience many  prepared foods to mouth-watering desserts, exotic cheeses and the best of local and imported specialties.  When in doubt - give a Vincenzo's Gift Card and grant a basketful of wishes in a single swipe.  Available in various price ranges, minimum
                              $10.00.
Say Thank you or Congratulations with a Gift Card from Vincenzo's, it's the Gift of Good Taste. 

Purchase GIFT CARDS online or in store.
Balance Inquiries and Other Information

For balance inquiries or for more information about the Vincenzo's Gift Card call (519) 741-1437.
Gift Card Facts
Lost or Stolen Gift Cards
A Gift Card is treated as cash. It cannot be replaced if lost or stolen.
Expiration & Fees
Gift Cards do not expire and are not assessed any fees.
Reward Them
They work hard for you. Reward them with the perfect gift. Vincenzo's Gift cards are the perfect fit for any organization
Fundraising Program From Vincenzo's
If your group is looking for an easy, year-round opportunity to earn money, you've come to the right place. Vincenzo's Gift Card program is available to help non-profit organizations, like yours, raise funds for charitable works, church and school activities, and community programs.Contact us for more information on this program.